Annex campers pile onto the newest Camp Olympics co-captain during the Breakout ceremony on July 30, 2019, in the Gymnastics Pavilion.
Precious Kelley, left, arm-wrestles with a camper for candy during "Trick or Treat at the Troys" in a Troy practice shack on July 3, 2017.
From left: Alexa T., Reagan S., and Sage R. embrace on the first day of camp on June 22, 2019, at Camp Romaca.
Katie Kostecka, second from left, celebrates having won a round of the card game "B.S." as Taylor Stuenkel, far left, J.P. Schueble, second from right, and Hannah Rose Duraski, far right, look on in Small Dorm 4 on June 7, 2017.
From left: Isabelle Dawson, five, Sam Durkee, five, teacher Tori Savage, and Gram Whitehead, five, wash off the shaving cream they had been playing with on July 18, 2016, outside of the Yellow Room at Children's School.
Left to right: Deidre M., Marisa W., and Mike Richards look at a transparency in a printmaking class on September 22, 2017.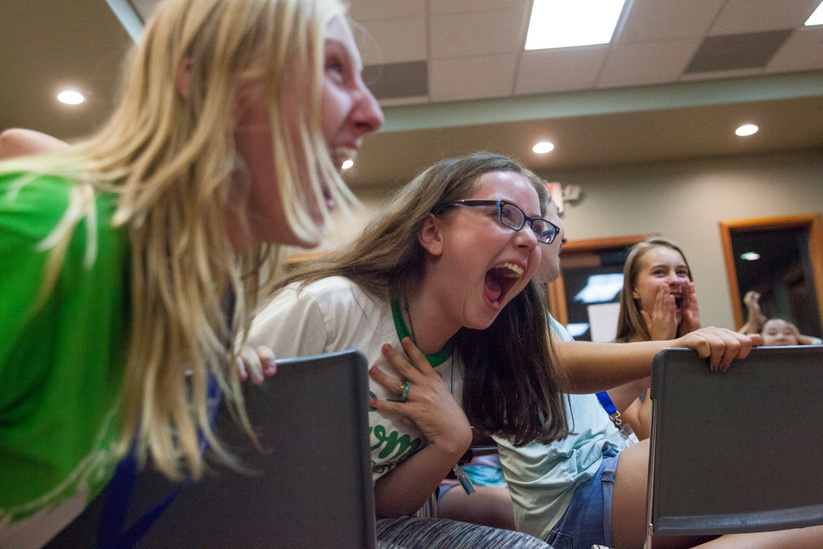 Children's Center campers scream to vote for their favorite performers during Mission Impossible in the Fireside Room on August 1, 2017. Mission Impossible is a competition in which counselors dress as celebrities of the opposite gender and perform choreographed musical routines.
Campers paint on June 25, 2019, in the Creative Arts Building.
Elan P. concentrates as he puts a "reverse Jenga" block into place in Dr. Tony McCaffrey's "Puzzle-ology" class on November 9, 2017.
Heather Kurtz '16 relaxes by the window during a work shift at the Smith College Boat House on September 21, 2013.
Zach S., a member of Eagle Hill's Juggling Club, led by Dr. Tony McCaffrey, practices on October 10, 2017, in the hallway of the James B. Richardson Academic Center.
Projecting their voices from inside a dark practice shack in the middle of the woods, Evan Smith, left, and Austin Robert Miller, right, try to scare campers by performing "spooky Gregorian chants" for campers participating in "Trick or Treat at the Troys" on July 16, 2017. When not singing, Smith and Miller performed as "Troy and Troy," two brothers who demanded campers tell them jokes in exchange for candy.
An Idyllwild staff member who wished to remain anonymous takes a photo of the sunset on his phone at The Point on July 10, 2017.